Brief History of Mumford
Area settled by Scottish immigrants in the late 1700's. Area chosen as a settlement because of it's numerous springs. First known as "McKenzie's Corner", then "Slab City". In 1799 the Village of Mumford was formed.

In combination with the area's abundant source of gypsum and swift water, plaster mills became Mumford's first industry. By the mid 1800's Mumford (Wheatland) became the world's largest producer of wheat. In the late 1800's railroads came to town -- B&O, Lehigh Valley, NY Central, and Erie.

Various other mills including textile, paper, and pipe made Mumford a booming town in the late 1800's.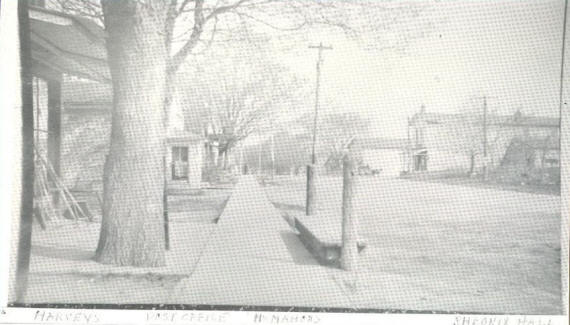 Phoenix Hall
Beginnings of MFD
February 7, 1887: Meeting of the citizens of Mumford was called to order regarding the organization of a formal fire protection company.

February 14, 1887: Bylaws and constitution of the Scottsville Fire Dept were accepted for use in the Mumford Fire Company.

It was decided to organize a ladder and bucket company.
•Officers were chosen: Chief Engineer, Assistant Chief Engineer, Forman of the Ladder Co., Assistant Forman of the Ladder Co., Forman of Bucket Co., Assistant Forman of Bucket Co.

A committee was chosen for the purchase of fire apparatus. The committee was to spec out a hook and ladder and a bucket cart with a budget of $300.00.
Mr. I.W. Salyards of the Scottsville Fire Dept assisted with the organization of the companies regarding procuring funds and maintaining them.

Mr. Salyards offered encouraging words: "Regarding the dangers and discouragements to which a fireman is subjected and not forgetting to picture some of the pleasant occasions such as returning like heroes from a fire, and parades, and to be covered in smiles and bouquets from the ladies".

February 24, 1887 (MFD's Birthday)
The committee charged with setting the fire limit reported that laws regarding fire districts had recently been changed.
• The law required a 2/3 petition of the population in order to form a fire district.
• It was decided to form an independent fire department, constitution and bylaw were signed.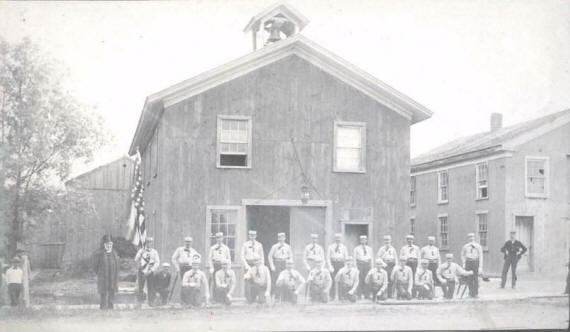 Liberty Station
The committee in charge of fire apparatus chose the Rumsey Manufacturing Co., Hook and Ladder Model #1 at a cost of $350.00. Friday May 13, 1887: the apparatus was delivered and a public demonstration was held with much fan fare.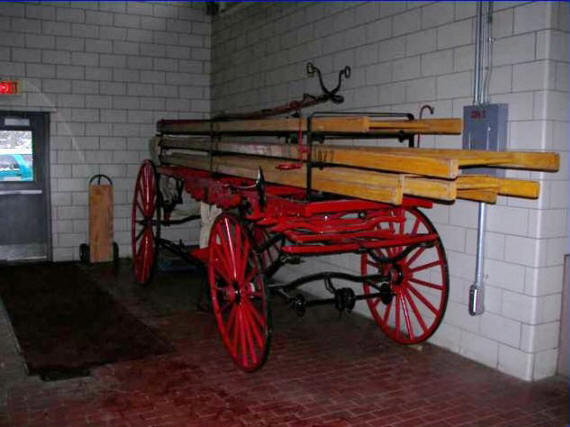 1887 Rumsey Ladder


4th of July celebration was planned to include a Fireman's parade and carnival type events. •Events included fireworks, games and races, two baseball games, tug of war, a foot race, tub races, wheelbarrow races, jumping competition, greased pig, sack races, 3 legged races and egg races ending with an evening dance.

The evening dance was interrupted by the Company's first alarm.

The company responded to a structure fire and although the building was a total loss the company was accredited with saving the surrounding properties.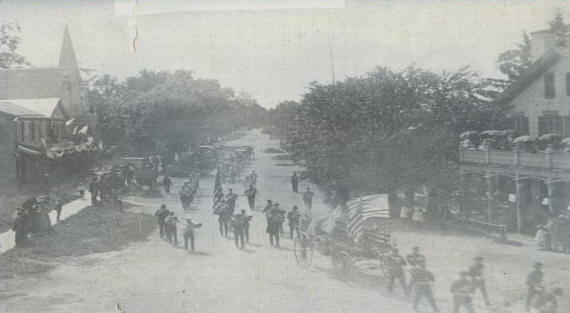 July 4th Parade 1887
Formation of Additional Companies
1891 a committee was formed to secure a hand pumper and hose cart with a budget of $500.00. •After reviewing used apparatus it was decided to purchase Gleason and Bailey's Crane Neck Model at a cost $550.00, which included a jump cart. •Officers were chosen for each company.

After delivery of the apparatus the hand pumper was assigned Engine No.1 and the hose cart became Hose Company No. 1. With the inception of the hose and engine companies the bucket company was disbanded. •These companies would remain as is until 1926.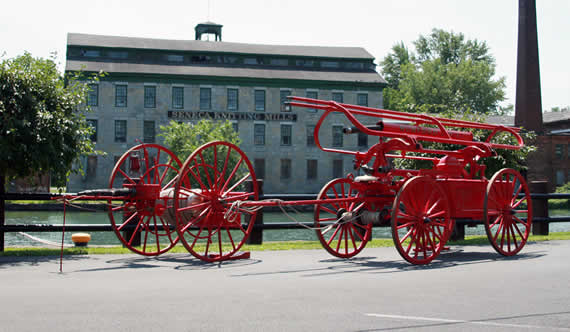 Hand Pumper and Hose Cart - Engine No.1
1926 brought expansion of the Fire Dept. with the addition of 2 new companies and one additional fire house. A second hose company was added and a fire house was built on the East side of the village. This hose company became known as "The East End Hose Company" Hose Co. # 2.

This expansion brought with it MFD's first motorized apparatus. A 1926 Ford Model T Chemical Cart was purchased and placed into service as Chemical Company #1. In the early 1930's the department purchased their first motorized engine, a Buffalo Fire Apparatus Pumper.

1939 a third fire house was built, which is the current fire house location. •The ladder company was closed. The hand pumper was taken out of service earlier in this decade •MFD was now completely motorized. •The hand pumper would be rebuilt in 1942 in preparation for World War II.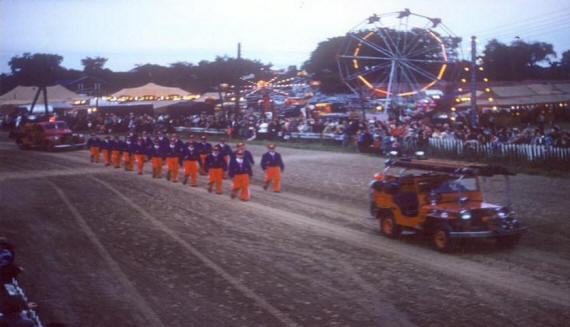 Truck 2